Increasing physical activity and improving physical education at St Joseph's Primary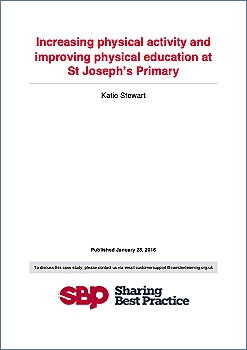 Educational Level
ISCED Level 0 Early childhood education
ISCED Level 1 Primary education
Geographical Setting
United Kingdom of Great Britain and Northern Ireland
Abstract
Aim:
The aim was to improve fitness levels, increase motivation towards fitness, promote physical wellbeing, upskill staff members, reduce behaviour incidents, and ensure effective use of PE Premium funding.

Methods:
The participants in this development work are pupils, teachers, teaching assistants, external coaches, and parents. Methods used include: external coaches teaching alongside class teachers, progression maps, PE planning, 5-a-day physical activity programme, Wake up Shake Up, YMCA extra-curricular sports club, zoned playground, new equipment, and skills audit of teachers.

Findings:
Increased physical activity, new equipment and zoned activities have improved pupil motivation, enjoyment, behaviour and physical skills, as evidenced by log books, feedback and fitness testing.

Implications:
The findings suggest that increased a programm of physical activity, improved teacher subject knowledge, and provision of new equipment leads to improved teaching and learning, motivation, enjoyment, and behaviour.
Keywords (free text)
PE
,
behaviour
,
wellbeing
,
physical activity
,
feedback
,
early childhood education
,
primary education
Permanent link to cite this item