Devon Inclusion Award (Autism Spectrum) and IDP training at Ratcliffe Special School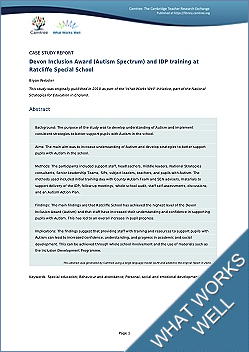 Educational Level
ISCED Level 1 Primary education
ISCED Level 2 Lower secondary education
ISCED Level 3 Upper secondary education
Geographical Setting
United Kingdom of Great Britain and Northern Ireland
Abstract
Background: The purpose of the study was to develop understanding of Autism and implement consistent strategies to better support pupils with Autism in the school.

Aims: The main aim was to increase understanding of Autism and develop strategies to better support pupils with Autism in the school.

Methods: The participants included support staff, headteachers, middle leaders, National Strategies consultants, Senior Leadership Teams, SIPs, subject leaders, teachers, and pupils with Autism. The methods used included initial training day with County Autism Team and SEN advisers, materials to support delivery of the IDP, follow up meetings, whole school audit, staff self-assessments, discussions, and an Autism Action Plan.

Findings: The main findings are that Ratcliffe School has achieved the highest level of the Devon Inclusion Award (Autism) and that staff have increased their understanding and confidence in supporting pupils with Autism. This has led to an overall increase in pupil progress.

Implications: The findings suggest that providing staff with training and resources to support pupils with Autism can lead to increased confidence, understanding, and progress in academic and social development. This can be achieved through whole school involvement and the use of materials such as the Inclusion Development Programme.
Keywords (free text)
Special education
,
Behaviour and attendance
,
Personal, social and emotional development
Permanent link to cite this item