Using the Growth Mind-set approach to narrow the gap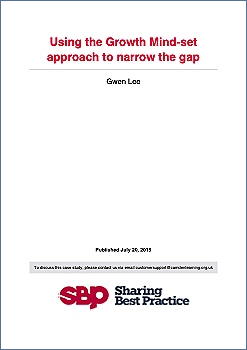 Educational Level
ISCED Level 0 Early childhood education
ISCED Level 1 Primary education
Geographical Setting
United Kingdom of Great Britain and Northern Ireland
Abstract
Aim:
The aim of the projec was to narrow the attainment gap between two groups of learners by using a growth mind-set approach to encourage effort, hard work, taking risks and learning from others.

Methods:
The participants are teachers, teaching assistants, parents, and students of all ages and abilities. They are all working together to develop a growth mindset and take risks in learning in order to achieve success. Methods used include praising effort, brain science lessons, no ability grouping, three levels of challenge, learning stops, peer assessment, growth mind-set displays, research time for staff, and assemblies exploring role models.

Findings:
Using a growth mind-set approach has had a positive impact on pupil learning and teaching, with 100% of teaching judged good or outstanding, and the attainment gap narrowing. Children have developed a positive learning attitude, putting in more effort and practice, and results for all children are high.

Implications:
The findings suggest that a growth mindset approach can help narrow the attainment gap, by encouraging children to take risks in their learning, and by providing them with the opportunity to develop their intelligence and talent through effort and practice.
Keywords (free text)
science
,
assessment
,
early childhood education
,
primary education
Permanent link to cite this item