Healthy Eating and Physical Activity at Rhyl Primary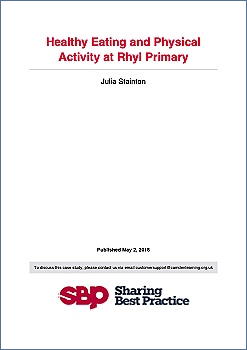 Educational Level
ISCED Level 0 Early childhood education
ISCED Level 1 Primary education
Geographical Setting
United Kingdom of Great Britain and Northern Ireland
Abstract
Aim:
The main aim was to improve healthy eating and increase physical activity among pupils, resulting in the achievement of the Healthy Schools London Silver and Gold Awards.

Methods:
The participants in the development work were Key Stage 1 and 2 pupils, parents, parent volunteers, the Deputy Head Teacher, and the HLTA. Methods used to promote healthy eating and physical activity included sending out a Healthy Packed Lunch leaflet, holding a Healthy Eating Poster Competition, running parent workshops, reviewing the cooking and nutrition curriculum, and encouraging parent volunteers. For physical activity, clubs were offered, Sports Champions and Playtime Champions were allocated, and girls-only clubs were introduced.

Findings:
The main findings are that the number of children eating crisps and drinking sugary drinks has decreased, and the number of girls participating in extra sport has increased. This has resulted in the school achieving the Healthy Schools London Gold Award.

Implications:
The findings suggest that the school's efforts to promote healthy eating and physical activity have been successful in improving awareness among children and parents, embedding healthy eating behaviours and encouraging physical activity.
Keywords (free text)
physical activity
,
healthy eating
,
early childhood education
,
primary education
Permanent link to cite this item