IDP Autism Spectrum: Impact on staff, parent/carer, pupil confidence and improved learning outcomes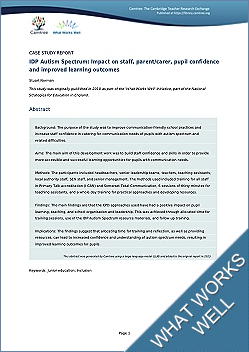 Educational Level
ISCED Level 1 Primary education
Geographical Setting
United Kingdom of Great Britain and Northern Ireland
Abstract
Background: The purpose of the study was to improve communication-friendly school practices and increase staff confidence in catering for communication needs of pupils with autism spectrum and related difficulties.

Aims: The main aim of this development work was to build staff confidence and skills in order to provide more accessible and successful learning opportunities for pupils with communication needs.

Methods: The participants included headteachers, senior leadership teams, teachers, teaching assistants, local authority staff, SEN staff, and senior management. The methods used included training for all staff in Primary Talk accreditation (I CAN) and Somerset Total Communication, 6 sessions of thirty minutes for teaching assistants, and a whole day training for practical approaches and developing resources.

Findings: The main findings are that the CPD approaches used have had a positive impact on pupil learning, teaching, and school organisation and leadership. This was achieved through allocated time for training sessions, use of the IDP Autism Spectrum resource materials, and follow-up training.

Implications: The findings suggest that allocating time for training and reflection, as well as providing resources, can lead to increased confidence and understanding of autism spectrum needs, resulting in improved learning outcomes for pupils.
Keywords (free text)
Junior education
,
Inclusion
Permanent link to cite this item