Vertical Tutoring at Regent High School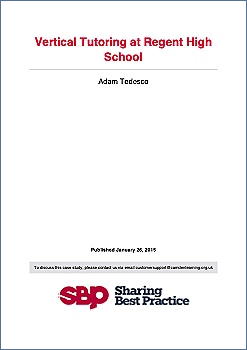 Educational Level
ISCED Level 2 Lower secondary education
ISCED Level 3 Upper secondary education
Geographical Setting
United Kingdom of Great Britain and Northern Ireland
Abstract
Aim:
The main aim of vertical tutoring was to raise achievement and attainment, reduce bullying, improve community cohesion, and build capacity and upskill all members of staff through the implementation of vertical tutoring at Regent High School.

Methods:
The participants in the vertical tutoring development work included the headteacher, Peter Barnard, the Senior Leadership Team, all staff, students, governors, parents, and Sir Ian McKellan from Stonewall. Staff CPD, stakeholder consultation, tutor/tutee introduction, tutor training, target-setting day, and parent meetings were used to implement vertical tutoring. All staff were involved and empowered.

Findings:
Vertical tutoring has improved student outcomes, reduced bullying, improved attendance, and increased community cohesion. Value-added scores have risen from 1000.7 in 2011 to 1013.6 in 2014.

Implications:
The implementation of vertical tutoring has resulted in improved student outcomes, reduced bullying, increased parent involvement, and improved community cohesion. It has also upskilled staff and improved relationships between tutors and tutees.
Keywords (free text)
bullying
,
tutoring
,
secondary education
,
secondary education
Permanent link to cite this item