Inclusion Development Programme (IDP): Implementing the SLCN IDP in Grange Infants School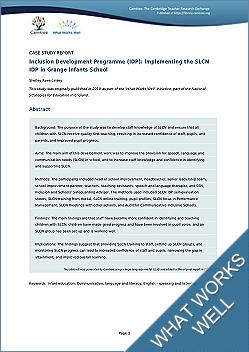 Educational Level
ISCED Level 0 Early childhood education
ISCED Level 1 Primary education
Geographical Setting
United Kingdom of Great Britain and Northern Ireland
Abstract
Background: The purpose of the study was to develop staff knowledge of SLCN and ensure that all children with SLCN receive quality first teaching, resulting in increased confidence of staff, pupils, and parents, and improved pupil progress.

Aims: The main aim of this development work was to improve the provision for speech, language and communication needs (SLCN) in school, and to increase staff knowledge and confidence in identifying and supporting SLCN.

Methods: The participants included head of school improvement, headteacher, senior leadership team, school improvement partner, teachers, teaching assistants, speech and language therapist, and SEN, Inclusion and Schools' Safeguarding Adviser. The methods used included SLCN IDP self-evaluation sheets, SLCN training from the LA, SLCN online training, pupil profiles, SLCN focus in Performance Management, SLCN meetings with other schools, and Audit for Communicative Inclusive Schools.

Findings: The main findings are that staff have become more confident in identifying and teaching children with SLCN, children have made good progress and have been involved in pupil voice, and an SLCN group has been set up and is working well.

Implications: The findings suggest that providing SLCN training to staff, setting up SLCN groups, and monitoring SLCN progress can lead to increased confidence of staff and pupils, narrowing the gap in attainment, and improved overall learning.
Keywords (free text)
Infant education
,
Communication, language and literacy
,
English - speaking and listening
Permanent link to cite this item