Analytical Writing in year 10 Media Studies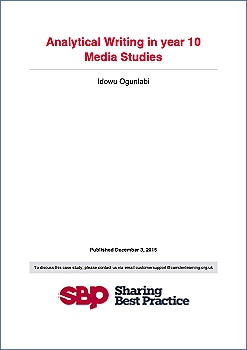 Educational Level
ISCED Level 3 Upper secondary education
Geographical Setting
United Kingdom of Great Britain and Northern Ireland
Abstract
Aim:
The main aim was to develop students' analytical thinking and language to enable them to write an extended essay, comparing and contrasting two media texts, and achieve their target grade.

Methods:
Year 10 Media Studies students, learning to develop analytical thinking and language to express it, with the support of the teacher and a pyramid resource. Methods used: Pyramid resource to model deconstruction of scene, discussion to develop analysis, and independent writing to achieve target grade.

Findings:
Students achieved higher grades in their extended essay due to improved analytical thinking and language skills, enabled by a pyramid resource and facilitated by the teacher.

Implications:
The findings suggest that providing students with the tools to independently develop their analytical thinking and language can lead to improved outcomes in their extended essays.
Keywords (free text)
writing
,
language
,
analytical thinking
,
secondary education
Permanent link to cite this item