Wake up, Shake up! An active start to the school day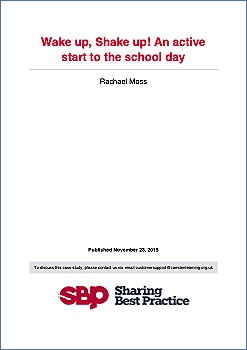 Educational Level
ISCED Level 1 Primary education
Geographical Setting
United Kingdom of Great Britain and Northern Ireland
Abstract
Aim:
The aim was to improve punctuality and increase physical activity by introducing a morning dance routine to energise children and encourage them to arrive to school on time.

Methods:
The participants in this development work were the senior leadership team, school leaders, PE co-ordinators, two members of staff, and the children in the school. Two members of staff chose and taught routines, with help from older students. Resources from 'Wake up, Shakeup' were used, and the same two staff led the routine each morning until older students took over.

Findings:
Introducing a morning dance routine energised children, encouraged good punctuality and attendance, and created an enthusiastic atmosphere in the school.

Implications:
The initiative has had a positive impact on punctuality and motivation, with pupils arriving to school energised and enthusiastic. This has been reflected in the school's Ofsted report.
Keywords (free text)
PE
,
physical activity
,
primary education
Permanent link to cite this item