One-to-one iPads – embedding IT across all teaching and learning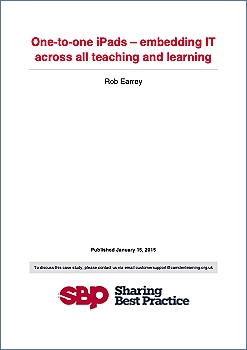 Educational Level
ISCED Level 1 Primary education
Geographical Setting
United Kingdom of Great Britain and Northern Ireland
Abstract
Aim:
The aim was to embed IT across all teaching and learning to prepare children for the future, develop writing, give them real life skills, and improve home/school links.

Methods:
The participants were KS2 pupils (Y3-Y6) and their teachers, who used iPads and apps to develop IT skills, presentational skills, and creative teaching and learning. The methods used include providing all KS2 pupils with a long-term loan of a school iPad, using Apple apps and other apps, sharing teacher content via email or content sharing apps, and using the iPads for teaching and learning.

Findings:
The main findings were that the use of iPads and apps has led to increased confidence in writing and researching, higher IT skills, higher presentational skills, and improved home/school links through learning. It also led to higher attainment in reading, writing and mathematics.

Implications:
The use of iPads and apps can improve pupils' IT skills, confidence in writing and researching, and engagement in learning. Ofsted in 2015 noted that pupils were exceptionally confident and capable in using ICT.
Keywords (free text)
reading
,
writing
,
mathematics
,
ICT
,
IT
,
primary education
Permanent link to cite this item