One-to-One creative writing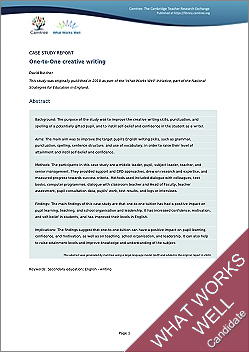 Educational Level
ISCED Level 2 Lower secondary education
Geographical Setting
United Kingdom of Great Britain and Northern Ireland
Abstract
Background: The purpose of the study was to improve the creative writing skills, punctuation, and spelling of a potentially gifted pupil, and to instill self-belief and confidence in the student as a writer.

Aims: The main aim was to improve the target pupil's English writing skills, such as grammar, punctuation, spelling, sentence structure, and use of vocabulary, in order to raise their level of attainment and instil self-belief and confidence.

Methods: The participants in this case study are a middle leader, pupil, subject leader, teacher, and senior management. They provided support and CPD approaches, drew on research and expertise, and measured progress towards success criteria. Methods used included dialogue with colleagues, text books, computer programmes, dialogue with classroom teacher and Head of Faculty, teacher assessment, pupil consultation data, pupils' work, test results, and logs or interviews.

Findings: The main findings of this case study are that one-to-one tuition has had a positive impact on pupil learning, teaching, and school organisation and leadership. It has increased confidence, motivation, and self-belief in students, and has improved their levels in English.

Implications: The findings suggest that one-to-one tuition can have a positive impact on pupil learning, confidence, and motivation, as well as on teaching, school organisation, and leadership. It can also help to raise attainment levels and improve knowledge and understanding of the subject.
Keywords (free text)
Secondary education
,
English - writing
Permanent link to cite this item