Pupil tracking: The next generation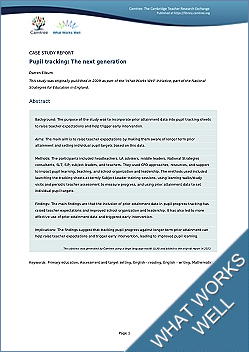 Educational Level
ISCED Level 1 Primary education
Geographical Setting
United Kingdom of Great Britain and Northern Ireland
Abstract
Background: The purpose of the study was to incorporate prior attainment data into pupil tracking sheets to raise teacher expectations and help trigger early intervention.

Aims: The main aim is to raise teacher expectations by making them aware of longer term prior attainment and setting individual pupil targets based on this data.

Methods: The participants included headteachers, LA advisers, middle leaders, National Strategies consultants, SLT, SIP, subject leaders, and teachers. They used CPD approaches, resources, and support to impact pupil learning, teaching, and school organization and leadership. The methods used included launching the tracking sheets at termly Subject Leader training sessions, using learning walks/study visits and periodic teacher assessment to measure progress, and using prior attainment data to set individual pupil targets.

Findings: The main findings are that the inclusion of prior attainment data in pupil progress tracking has raised teacher expectations and improved school organization and leadership. It has also led to more effective use of prior attainment data and triggered early intervention.

Implications: The findings suggest that tracking pupil progress against longer term prior attainment can help raise teacher expectations and trigger early intervention, leading to improved pupil learning.
Keywords (free text)
Primary education
,
Assessment and target setting
,
English - reading
,
English - writing
,
Mathematics
Permanent link to cite this item