T-SEDA trial in a French-speaking context: setting up educational dialogue in secondary 4 Québec-Canada history courses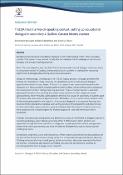 Educational Level
ISCED Level 3 Upper secondary education
Abstract
Background and purpose: Educational dialogue is not widely spread in the French-Canadian context. Trial research was needed to help teachers develop their knowledge of educational dialogue and dialogic teaching practices.

Aims: The main objective was two-fold: first, to enhance educational dialogue in history classes in a secondary school in Quebec, and second, to assist students in making their reasoning explicit and challenging ideas during whole class discussions.

Design or methodology: Drawing upon the T-SEDA inquiry process, this paper presents the findings of a practitioner study driven by the identified scarcity of educational dialogue opportunities within history classes. A formal trial research was conducted to examine the reception of T-SEDA materials among teachers in the Quebec school context and its impact on the development of their dialogic teaching practices. Three secondary teachers, who had expressed interest in incorporating discussion-based activities in their classes and were approached by their PD leader, participated in the trial. Six classes of secondary 4 students aged 15-16 years old, with a total of approximately 170 students, from a public school located north of Montreal participated in this research. A lesson was designed to incorporate features that would promote educational dialogue such as the presence of talking points and ground rules. In-class observations were made and were practitioner-lead. To support students, resources were produced and include diagram for illustrating ground rules and a think-pair-share worksheet.

Findings: Incorporating talking points and ground rules may be insufficient to engage students in educational dialogue when taking ownership of the T-SEDA toolkit. When students are supported through the think-pair-share strategy and a paper-pencil worksheet, dialogue was shown to be more spontaneous and have the desired characteristic such as reasoning and challenging claims.

Conclusions, originality, value and implications: When expressing and sharing ideas publicly are not part of the classroom culture, it may be hard to incorporate dialogue into lesson planning. Thinking alone and sharing in small groups before whole class discussion seemed to facilitate the process. Developing appropriate scaffolding resources for practitioners could be an interesting lead for future design-based research.
Keywords (free text)
dialogue
,
T-SEDA
,
History of Quebec and Canada
,
Secondary school
Permanent link to cite this item