Behaviour and attendance: The role of the senior leadership team (SLT) in leading and managing improvement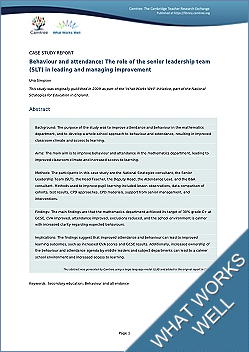 Educational Level
ISCED Level 2 Lower secondary education
ISCED Level 3 Upper secondary education
Geographical Setting
United Kingdom of Great Britain and Northern Ireland
Abstract
Background: The purpose of the study was to improve attendance and behaviour in the mathematics department, and to develop a whole-school approach to behaviour and attendance, resulting in improved classroom climate and access to learning.

Aims: The main aim is to improve behaviour and attendance in the mathematics department, leading to improved classroom climate and increased access to learning.

Methods: The participants in this case study are the National Strategies consultant, the Senior Leadership Team (SLT), the Head Teacher, the Deputy Head, the Attendance Lead, and the B&A consultant. Methods used to improve pupil learning included lesson observations, data comparison of cohorts, test results, CPD approaches, CPD materials, support from senior management, and interventions.

Findings: The main findings are that the mathematics department achieved its target of 30% grade C+ at GCSE, CVA improved, attendance improved, exclusions reduced, and the school environment is calmer with increased clarity regarding expected behaviours.

Implications: The findings suggest that improved attendance and behaviour can lead to improved learning outcomes, such as increased CVA scores and GCSE results. Additionally, increased ownership of the behaviour and attendance agenda by middle leaders and subject departments can lead to a calmer school environment and increased access to learning.
Keywords (free text)
Secondary education
,
Behaviour and attendance
Permanent link to cite this item