2 minutes of counting a day, keeps the doctor away!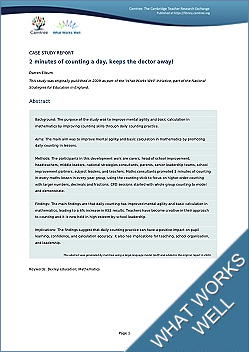 Educational Level
ISCED Level 0 Early childhood education
ISCED Level 1 Primary education
Geographical Setting
United Kingdom of Great Britain and Northern Ireland
Abstract
Background: The purpose of the study was to improve mental agility and basic calculation in mathematics by improving counting skills through daily counting practice.

Aims: The main aim was to improve mental agility and basic calculation in mathematics by promoting daily counting in lessons.

Methods: The participants in this development work are carers, head of school improvement, headteachers, middle leaders, national strategies consultants, parents, senior leadership teams, school improvement partners, subject leaders, and teachers. Maths consultants promoted 2 minutes of counting in every maths lesson in every year group, using the counting stick to focus on higher order counting with larger numbers, decimals and fractions. CPD sessions started with whole group counting to model and demonstrate.

Findings: The main findings are that daily counting has improved mental agility and basic calculation in mathematics, leading to a 6% increase in KS2 results. Teachers have become creative in their approach to counting and it is now held in high esteem by school leadership.

Implications: The findings suggest that daily counting practice can have a positive impact on pupil learning, confidence, and calculation accuracy. It also has implications for teaching, school organisation, and leadership.
Keywords (free text)
Bexley education
,
Mathematics
Permanent link to cite this item