Improving writing: maximising progress through Lesson Study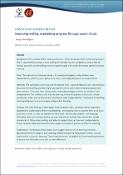 Educational Level
ISCED Level 1 Primary education
Geographical Setting
United Kingdom of Great Britain and Northern Ireland
Abstract
Background: The purpose of the study was to use a Lesson Study approach to improve writing in Year 2, specifically focusing on boys' writing, by introducing new vocabulary, using a 'talk for writing' approach, and providing aides to support pupils with under-developed speech and poor memory.

Aims: The main aim of this lesson study is to develop strategies to help children learn independently, with the use of pictures, actions, and simple procedures to support them.

Methods: The participants were a group of teachers from Lowestoft Network who observed and discussed the teaching and learning of a group of children with under-developed speech and poor memory. They used their observations to develop strategies to help the children learn independently. The methods used include planning, rehearsal, pictures and actions, simple procedures, aides, and variety to help the children learn independently. The focus is on teaching learning behaviours and encouraging independent learning.

Findings: The main findings of the Lesson Study research report are that children need clear expectations, explanations of learning objectives, and opportunities to present their work to an audience in order to raise the standard of their work. Additionally, children with language difficulties need extra rehearsal time, pictures and actions to help them remember, simple procedures to follow when writing, and aides to support them as they work independently. These measures have been found to have a positive impact on practice and future teaching.

Implications: The findings of this lesson study suggest that variety in teaching methods, appropriate levels of support, and teaching children to become independent learners are all important for successful learning. These implications can be applied to future teaching practices to ensure that all students are able to learn effectively.
Keywords (free text)
lesson study
,
talk for writing
,
boys' writing
,
primary education
Permanent link to cite this item