Improving writing: maximising progress through Lesson Study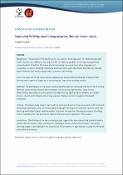 Educational Level
ISCED Level 1 Primary education
Geographical Setting
United Kingdom of Great Britain and Northern Ireland
Abstract
Background: The purpose of the study was to use a Lesson Study approach to collaboratively plan, teach, observe, and reflect on learning in order to maximize progress in writing among primary school students in Suffolk. The focus was on increasing the use of descriptive language and vocabulary, as well as boosting confidence and motivation, with a particular emphasis on praising pupils' attempts and encouraging others to admire their writing.

Aims: The main aim of the lesson study project was to improve the teaching of writing and the learning and progress of pupils by re-evaluating and improving teaching practice.

Methods: The participants in the lesson study project focused on improving their teaching of writing. Methods used included teacher demonstration, role-play, word generation, story frames differentiated according to ability, post-it note idea sharing, teacher demonstration of thought process, shared and independent writing, and use of praise and encouragement to boost confidence.

Findings: The lesson study project improved the writing skills of the three case pupils, with increased confidence, motivation, and use of descriptive language. The pupils enjoyed sharing their work and admiring each other's ideas, and the teacher improved her practice, focusing on aspects of writing and re-evaluating her own practice to improve the learning and progress of the pupils.

Implications: The findings of the lesson study project suggest that teaching writing should include a teacher demonstration stage, speaking and listening activities, and plenty of support during the planning stages. It also highlights the importance of consistency in approaches to using the APP grids and collecting evidence.
Keywords (free text)
lesson study
,
writing
,
descriptive language
,
primary education
Permanent link to cite this item