Careers Event at Christ Church, NW3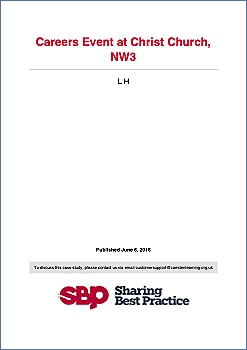 Educational Level
ISCED Level 1 Primary education
Geographical Setting
United Kingdom of Great Britain and Northern Ireland
Abstract
Aim:
The event aimed to give children the opportunity to learn about a range of careers and gain experience and knowledge to move forward in their areas of interest.

Methods:
The participants were year 5 and 6 children and 25 professionals from a range of local businesses. The event used a range of resources such as PowerPoints, objects, and problem-solving activities to engage the children. Speakers were asked to share their knowledge and experiences, and the children were asked to rank their interests and write down questions.

Findings:
Pupils enjoyed learning about a range of careers and found the interactive activities stimulating. They appreciated the opportunity to engage with professionals and gain insight into the various career paths available to them.

Implications:
The Careers Event had a positive impact on the pupils, as they gained knowledge of a range of career opportunities, asked questions, and interacted with professionals. They also developed their understanding of commitment, focus and drive needed to succeed.
Keywords (free text)
problem-solving
,
primary education
Permanent link to cite this item